The Balscore: Toward a Score for a Ball between Contact Improvisation and Argentine Tango
Published in CQ Contact Improvisation Newsletter Summer/Fall 2015 Vol. 40.2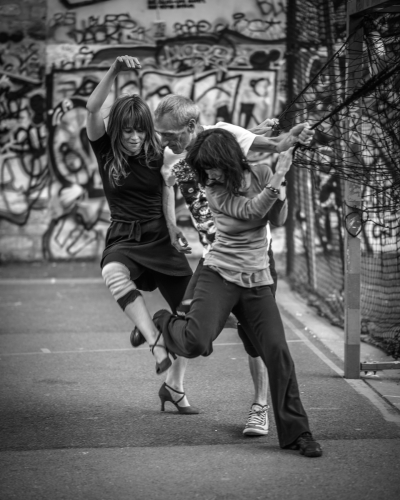 Balscore in Paris, with [

left to right

] Françoise Bachelard, Daniel Francini, and Françoise Lenoir at La Mason des Ensembles, 2014. photo © Gilles Dantzer
Paris, France
We would like to let you know about one of our projects called Balscore, created by Collectif Tangible, in PARIS [FRANCE]. It seems that this project followed the same way as the Underscore in its creation process, which is why we would like to tell you its story. It is partially based on the Underscore's principles, score, and pictograms.
Association Tangible, initiated by Edwine Fournier, has been creating shows, performances, and artistic and collective events since 2003. We collaborate on a regular basis to organize balls, giving them a contact tango flavour. Parisian contact tango grew a lot over the last 15 years, spearheaded by Edwine and Sylvie Gueugnon. We've been continually looking at common and divergent aspects between contact and tango.
Somatic approaches are also very present in the Balscore practice because a lot of the Collectif's members have had professional training and education in specific practices, such as Sensorial Movement Education (the work of Danis Bois, based on the body's connective tissues/fascia) or Body-Mind Centering®.
Classes, workshops, "bal-jam," and performance work have been organized, and the substance of this dance between contact, tango, and somatic approaches became more and more intertwined and specific: it became something new. It's a whole new practice with its own integrity; it has roots in different forms, but the new form has its own identity.
What emerged next was the idea of an independent practice that would be open to anyone, without a teacher but with specificity and a common dance. The Collectif Tangible was born, made of dancers who've been practising with us since the beginning of the collective experiment.
We've been navigating for about two years, with intensive sessions of reflection and labbing. The group consists of 15–20 people strongly involved in the practice. When it became obvious that the Underscore had something to do with our work, we practised several of them. It inspired our notation and descriptions: we kept the pictogram support and the Open Score phases inspired by the Underscore and incorporated it into our work.
When it is open to people who don't know the score (about 10 times during the last three years), the Balscore always begins with a presentation of the score. This presentation is different every time; it is inspired by specificity of the place, previous trials, and participant feedback. It's always offered by at least four people of our group. Sometimes people can experiment; sometimes they can visualize. A small pause follows.
Movement begins. Objects such as a chair, clothing, high-heeled shoes, can be included/introduced into the dance. The Score: Briefly, the first big phase is related to taking the space, or stepping into the space. Second, we focus on the inner space and on gravity and verticality. Third, we add walking, with more focus on the space between each other and on walking counter-clockwise in the space. Fourth, dancers are encouraged to concentrate the energy in a "choir," connecting together by gathering in very close proximity. A kind of a "small-dance," standing close to one another, having small weight exchanges—begins with the whole group.
Choir expands into the Open Score based on our own contact tango vocabulary. Additionally, we propose "transversals" ("anytime all the time aspects," in Underscore terms) such as pauses, silence, emptying space. We also introduce and encourage people to use something we invented called PCPD (petites consignes pour danser), which are small instructions in a hat, such as dance with a man, find someone who is seated and invite them to dance, circulate in the room. We wanted to include people who don't have a lot of dance experience and may be nervous about improvising. We created suggestions and invitations as a sub-score to support newcomers.
Just like the Underscore, the "final resolution" is found together; time for "harvesting" and feedback is offered in a structured way to encourage participants to focus on precise topics. A snack is then offered to participants.
The Balscore is supported by silence and music, most times live music.